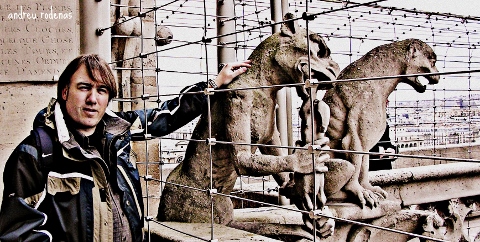 Andreu Ródenas
---
One of the things that I was most curious about in one of my stays in Paris was the gargoyles of Notre Dame Cathedral.
From a distance, you can not guess its size and variety, but when you climb the balconies of the cathedral and see them at life size, you realize they are impressive. Only those travelers who spend a few hours visiting the cathedral will be able to check it since it is not possible from the square.
Gargoyles have been much talked about and usually their meaning is more associated with the mythology and ancient beliefs of the Middle Ages than with their architectural and decorative meaning. It is said that gargoyles are elements of protection of the churches to isolate them from demonized beings of hell and to prevent them from unbelieving sinners. Hence they built them with these forms of semi-animal creatures with a grotesque appearance of monsters or ancestral beasts.
Architecturally they had the function of decorating the facades of the temples and cathedrals (especially in the Gothic and Renaissance era) and they took advantage of them to channel the rainwater and throw it through the mouth of the figure.
It can not be denied that they have a special appeal and those of Notre Dame Cathedral in Paris are even more so as they are often cared for and restored, not as in other places where they are left to expose the rain and the wind while it is wearing and deteriorating forever.
0