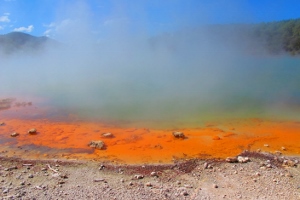 Andreu Ródenas. February 2012
---
Our trip began on 02/03/2012 in Barcelona destination Auckland stopping in Singapore for 7 hours which allowed us to do a small tour and free tour in the city center. All travelers with a more than 5-hour stopover can use this service offering Changi Airport itself. Although in this airport the time can run fairly quickly and without tedium and it has everything and it's huge, but with seven hours ahead worth doing the tour, it is recommended but warn that it is a small tour that takes you to China Town where you see some temples outside, also it passed by Marina Bay, by the Hindu neighborhood …. but the big and super modern city of Singapore deserves a much longer visit, but that will be another trip because our effort is focused on New Zealand or Aotearoa in maori as they call it. Over the years I have learned that dreams can come true and a way to get it is traveling, so whenever I plan and organize one of my travels around the world I do think it's a dream that will come true.
Sunrise in Aoraki-Mt.Cook Nat.Park from Glentanner
This trip was prepared for a long year, enough to think step by step, day by day, as long dream would be realized. I went there with my wife Nuria, and my friends Pepe and Fina. We did 5,000 km of roads on both islands, visited beaches, rivers, lakes, volcanoes, gardens, glaciers, peaks, forests, cities, ….. and in the end we learned that another way of living is possible in this world and those things for the daily care about are not needed, nor need such attention. If somewhere I have learned that man is part of nature and is in New Zealand, I hope it stays that way for countless years to occur. After studying many options at the end we decided to rent a motorhome and spend nights in the holiday parks in the Top 10 chain wherever possible within our route. The insurance option I chose was the All Inclusive we assured to be well covered and have no scares that cost us more money, and this option allows you to not have to give any cash or charge on the credit card as a deposit or bond and also lowers the franchise will only be NZ $ 250.
Why motor home and go to sleep in campsites? Because on the one hand they are not many places where free stop for the night, otherwise we were 4 people and we gain a lot of time in showers and other physiological necessities going to the baths of campsites and it saves cleaning time. The Top 10 are fine and the membership card we saved 10% of the fare price and 10% in the Interislander ferry. The average cost for a night for 4 people in motorhome of 7.30 meters and powered site (electricity and water) are about 50 € to change, so worth it. For the dinners was also worth because we had barbecues that would have been impossible otherwise and kitchens in the campsites are well-equipped, I'd recommend it highly. The cost of the trip is not cheap, as  always occurs the cheap became expensive, we controlled our daily budget and hadn't extraordinary surprises, some tours are picked and we reserve some of them before leaving and the other we decided on the way taking into account climatic factors , economy and timetable. To my knowledge it is not possible to make a beautiful journey so far and not doing some tours and excursions, most notably for those of us who have 18-20 days in NZ are sailing to Milford Sound, the helicopter flight over the mountain Cook, sailing with dolphins or whales in Kaikoura, the trip to the Dart Valley in Glennorchy, the Jet Boating in Queenstown, geothermal parks in Rotorua, trekking on glaciers in the West Coast and the caves of glow – worms.
After a long flight, long, very long, finally landed in Auckland, we were tired but with an overwhelming desire, after 30 hours, to get going with our motorhome. With bags in hand we took a taxi to the central of APOLLO MOTORHOMES COMPANY just 5 minutes from the airport, we got even a little advanced on schedule and the weather was sunny but quite windy. In Apollo we explain the entire operation of the motorhome, fill the last papers … there is always something to pay you have not explained anywhere, but nothing great either, so it quickie drive to the north of the island . First we stopped at a Countdown to the first gathering everything you need for a couple of quiet days.
The motorhome was new (there are two rates or two classes: two or fewer years and more than two) and it was a six-seat but for 4 people we decided we would go much wider and the price difference worth grief, it was booked and paid 7 months ago and I found a very good deal which included full insurance without having to leave a deposit and the deposit was 250NZ $ (about 180 €) only giving the credit card details (without charge). After inserting the provisions we set en route to the Bay of Islands specifically our destination was a camping at the entrance of Paihia, while I organize maps and Pepe route leads and soon as we passed the Bay of Auckland (in the west of the city) and see the Skytower chairing the city center.
Auckland
If the first day we decided to go north and not to do it to the south was because the next day was 2.06.2012 and as every year on February 6 is the Waitangi Day, semi-festive day where the signing of the peace treaty between the Maori and English. All celebrations are held at Waitangi precisely that is attached to Paihia. No stops along the way, we arrived at Paihia on 6pm and once located the campsite or Holiday Park as they are called there, we decided to stay and to take a shower, dinner and resting after not stopped since we left Barcelona. At 9 pm we fall defeated by sleep, fatigue and guess the first effects of jet-lag. We parked our camper right in front of a beach in one of the many bays that exist in this region, a quiet little place but quite crowded as people from other parts of the country also moved to the commemorations.
As you know one of the strengths in the cultural and ethnological scope of NZ is undoubtedly the presence of the Maoris, they are the first inhabitants of the two islands and coming from Polynesia have left their cultural mark and traditions as a fundamental part culture and history of NZ. Anyone who intends could be able to know their customs visiting any of the typical villages in Rotorua that are focused on tourists, but if that person is fortunate, as we had, being in Waitangi on February 6 then the tourist thing gives way to the reality of a unique way of sharing traditions, customs and knowledge. They gather there for a couple of days thousands of Maori (representing different tribes) and other peoples from NZ to enjoy a joint party in the dances, costumes, meals are shared with tourists even outside them, but mixed , peacefully enjoy these festivities.
Thus as can be seen in some photos accompanying the text, we saw as dozens of them sang and danced the famous Haka, we witnessed how great Waka (Maori boat) which is whole year exposed on site facilities Waitangi Treaty Grounds, sailed through the bay to the rhythm of the songs from the shore and sang the Maori war cries of women throwing their rowers. We are brought together with them in the sand of the beach as they danced the haka with their oars, we walked among their tents, campers, and food stalls and typical drink, we share moments of complaint to what some believe is the Selling of their country, demonstrating peacefully in the gardens of Waitangi. They even met us for a regional newspaper of which I leave the link if you are interested have a look. It really was an unforgettable day for the symbolic, plus the weather accompanied us as the sun was so strong and since the first day we had to resort to sunscreen, in the Waitangi Treaty Grounds photographed the Marae (or meeting house), also the house where the peace treaty was signed, we relaxed on the grass listening to the concert of the band of the Navy, and finally witnessed the firing of the guns they  terminate the celebrations. I leave the link of the interview that made us
LINK: THE NORTHERN ADVOCATE
Early in the afternoon we went out towards the east coast and head to Waiporua Forest as we chose to go south on this route and see the great Kauri tree called Tane Mahuta. The road through the Waipoua Forest from Opononi is beautiful and very twisty with the Tasman Sea always on your right.
Haruru Falls
Once the visit and the photos were done to such beastly tree we continue our route crossing inland to Wangarei to resume again the same road by which we had come the day before, our final stop of the day was Orewa Beach about 30 kms north of Auckland. As in Barcelona I had taken the membership card chain Holidays Park TOP 10 stopped for the night in the which one there next to the beach, where we could enjoy both the sunset, and especially the dawn (we were again in the Pacific coast) the next day. A campsite very nonetheless where the views and walks on the nearby beach worth.
We woke up early with the sun rising just behind our motorhome, vision from the inside was spectacular and decided to go for a walk along the beach right by the campsite for sunrise. A small seagull was there with us while we take some photos to remember, we are very close to Auckland (about 30 kms) in an area full of houses i front of the beaches, not an inhospitable but rather place is a hangout by walkers, cyclists, surfers because of its proximity to the big city facilitates it, not overcrowded and this gives you a dose of quiet place to spend a few days or a weekend summer outside of the big city.
Once all collected and timely breakfasted and clean we leave from Orewa Beach to Rotorua where we decided to arrive early in the afternoon because we want to visit the Maori village called MITAI VILLAGE to further deepen the cultural and traditional environment of the Maori people. So we see again Auckland from our Motorhome on the highway and a few kilometers after  we left behind. Today the road is a fast road to Hamilton and then turn off towards the east to reach Rotorua, by the way we were so close to the village of Mata-Mata where were located all Hobbiton scenes in the movie The Lord of the Rings; as we know that it is a visit with probability not be achievable because there is some activity yet because the film The Hobbit and knowing that you can only see with a local agency we decided to go to Rotorua to visit the museum and gardens
Museo Nacional de Historia y Arte de Rotorua
A leisurely stroll through the museum and gardens and still no news of this strong rotten egg smell which we have read that there are around here, yes we have already seen some small vents in the gardens of the houses near the museum, in the gardens of it we can see in situ a first small crater with boiling water and sulfur crusts around the edges. We are in the most active area geothermally speaking and do not want to miss a chance to enjoy the most, but first we will visit the MITAI VILLAGE, where we will see a nice and highly recommended representation of Maori dances and a demonstration of the use of traditional tools and weapons, and then we attended a Maori Hangi dinner with typical grilled food in a natural oven, under the earth, as did the ancient inhabitants of the area. It is a tourist show (I will not deny) for up to 200 people but it's worth because the food is good, and to see the Haka a few meters is quite shocking. As I'll tell later in Te Puia also seeing a similar representation but much weaker and shorter, if necessary I recommend the Mitai Village.
Además de la representación teatral con unos auténticos decorados nos ofrecieron un paseo por el bosque adjunto, donde los mismos actores pasan remando con una pequeña waka por un pequeño arroyo entre los visitantes cantando la Haka, en este mismo bosque después de la cena volvimos a pasear a oscuras para ver los glow – worms (gusanos de luz típicos de NZ) y luego pudimos entrar en un pequeño parque adjunto al poblado donde han montado una pequeña reserva natural para los Kiwis. Es un centro para la recuperación del pájaro símbolo nacional, allí los cuidan, los hacen crecer y reproducirse para luego irlos reintegrando en los bosques de la isla para que vayan repoblando de nuevo. Los kiwis no son fáciles de ver ni estando en cautividad, así que fue una buena oportunidad para intentarlo sabiendo que de forma natural y por nuestra cuenta no lo conseguiríamos. Finalmente pudimos ver un par corriendo en semi a oscuras por sus parcelas artificiales, no se trata de un zoo pero aprovechan la curiosidad de los turistas para financiar este proyecto de repoblación de una especie que de 12 millones de individuos cuenta actualmente con no más de 75 mil. Nos gustó y de paso contribuimos a ayudar en esta digna tarea, el turismo no debe estar reñido con la solidaridad. Las visitas a las zonas geotermales más características de Rotorua y alrededores las dejamos para el día siguiente. Tenemos pensado visitar al menos tres de ellas antes de llegar a las Huka Falls cerca de Taupo y de visitar el propio lago Taupo.
Apart from the theatrical performance with some real scenery we were offered a ride by the deputy forest where the same actors go paddling with a small waka by a small stream among the visitors singing the Haka, in this same forest after dinner we went for a walk dark to see glow – worms (worms of light typical of NZ) and then we could get in a small park attached to the village where they have set up a small nature reserve for the Kiwis. It is a center for the recovery of bird national symbol, there's caring, make them grow and reproduce and then they are reintegrated in the forests of the island to repopulate it again. Kiwis are not easy to see or still in captivity, so it was a good opportunity to try it knowing that on a natural way and by ourselves wouldn't do it. Finally we saw a couple running in the darkness for their artificial plots, there is a zoo but exploit the curiosity of tourists to finance the reforestation project of a species, from  12 million individuals currently has no more than 75 thousand. We liked it and incidentally we contribute to help this worthy task, tourism should not be at odds with solidarity. The visits to the most characteristic geothermal Rotorua and surrounding we left for the next day. We plan to visit at least three of them before reaching the Huka Falls near Taupo and visit Lake Taupo itself.
Hoy tocaba levantarse pronto ya que el programa de visitas era extenso y no sabíamos a ciencia cierta que nos ocuparía cada uno de los parques con actividad geotermal que íbamos a visitar. Decidimos que comenzaríamos por HELL'S GATE ya que estaba muy cerca del camping donde habíamos pernoctado, en la llamada Golden Bay cerca del lago Rotorua.
Hell 's Gate es probablemente la más pequeña de las áreas geotermales pero no por ello hay que obviarla pues sus escenarios son los que nos recordaran más a las escenas de planetas lejanos de nuestra galaxia: fumarolas, barro hirviendo, olor a azufre intenso, pequeños cráteres oscuros y humeantes, lagos de agua hirviendo, todos ellos nos transportarán a mundos de ciencia ficción y nos permitirán guardar imágenes únicas en nuestras retinas.
Después de un largo paseo por las pasarelas y caminos señalizados nos dimos un buen baño de barro antes de sumergirnos en las piscinas de agua caliente donde pudimos relajarnos de la suave caminata. Nuestro siguiente destino era TE PUIA en la zona de Whakarewarewa al sur de la ciudad, se trata de un parque con mucha actividad geotermal, pero también con otros atractivos para los visitantes como la escuela nacional de grabado, una auténtica Marae y un completo centro de exposiciones de arte y cultura maoríes.
 Las tallas que vimos aquí son realmente preciosas y puedes disfrutar viendo cómo las hacen e incluso conversar con los artesanos, muy aconsejable pasarse por la tienda y comprar alguna de recuerdo. En la marae pudimos volver a disfrutar de un espectáculo maorí aunque de formato más corto que el de Mitai Village y sensiblemente más flojo estéticamente, para los que hayan visto primero el poblado Mitai o el Tamaki en Rotorua los aconsejaría comprar la entrada normal en Te Puia que no incluye la performance. Mi amigo Pepe y yo nos atrevimos a subir al escenario y bailar (o intentarlo) la famosa Haka junto a los actores nativos. Después de esta experiencia la Haka no creo que vuelva a ser lo mismo … pero en fin para eso estamos, para intentarlo por lo menos.
En TE PUIA hay varios puntos muy interesantes para ver como el Geiser Pohutu que aproximadamente una vez cada hora u hora y media lanza choros de agua y vapor a una distancia de hasta 30 metros, no menos espectacular es el lago de agua azul transparente que deja este agua en su caída posterior, también se puede ver una terraza de sílice que parece una cascada de agua congelada con diferentes tonos de gris, blanco y amarillo. Algunos de los cráteres son realmente profundos o al menos lo parecen al tener en su fondo ese color oscuro con niebla debido al vapor incesante que sale de sus entrañas.
.
Una vez finalizada la visita a Te Puia la decisión a tomar era, o bien ir a la zona de Waimangu Valley o ir directamente a Wai -o- Tapu para más tarde poder parar en Huka Falls antes de llegar a Taupo y así al día siguiente poder disfrutar de más tiempo en el Parque Nacional Tongariro. Como a todo no se llega decidimos la segunda opción y por tanto no podré explicar nada sobre el monte Tarawera, ni sobre Waimangu ni su famoso cráter inferno, pero podeis informaros en otros blogs y diarios brillantes que hay colgados en la red. Llegamos a Wai – o – Tapu (a unos 30 km de Rotorua) con un sol de justicia y un calor seco bastante fuerte, de ahí que decidimos buscar alguna sombra para hacer un picnic antes de volver a ponernos a andar por tierras cálidas. Con los estomagos llenos entramos en el que por colorido podríamos definir como más interesante, ya que en poco espacio de terreno puede llegar a verse muchas y diferentes tonalidades de aguas. Wai -o- Tapu requiere un poco más de tiempo para recorrer pero se hace fácilmente, sus caminos y pasarelas están bien señalizados y cuidados y los miradores sobre los lagos y lagunas te permiten unas perspectivas fantásticas para tomar muy buenas fotografías.
La Artist 's Pallete y la Champagne Pool son las joyas de la corona y todo lo que lea sobre ellas en guías, webs y blogs os aseguro que es realidad, pero una realidad que hay que ver in situ a pocos metros, porque dudo que otro lugar semejante sea tan fácilmente accesible a las personas. Las diferentes composiciones químicas y minerales de las aguas dan como resultado diferentes colores a veces, desde amarillentos a verdes y azules psando por el ocre más rojizo.
Els meus companys de viatge van sortir pensant que la nostra visita a l'activitat geotermal havia finalitzat i que sense més aniríem cap Taupo parant a les famoses cataractes Huka Falls. El que no sabien era que els tenia una sorpresa preparada ja que en el camí de Wai-o-Tapu a Huka Falls vam fer una breu parada que no apareix a les guies tradicionals i de la qual vaig tenir coneixement quan vaig preparar el viatge mesos abans, va ser llegint en un blog que vaig topar amb un lloc anomenat KEROSENNE CREEK i del que vaig prendre minuciosament la seva localització ja que està dins d'un bosc a uns 3 km de la carretera.
Mis compañeros de viaje salieron pensando que nuestra visita a la actividad geotermal había finalizado y que sin más iríamos hacia Taupo parando en las famosas cataratas Huka Falls. Lo que no sabían era que les tenía una sorpresa preparada ya que en el camino de Wai-o-Tapu a Huka Falls hicimos una breve parada que no aparece en las guías tradicionales y de la que tuve conocimiento cuando preparé el viaje meses antes, fue leyendo en un blog que me topé con un sitio llamado KEROSENNE CREEK y del que tomé minuciosamente su localización ya que está dentro de un bosque a unos 3 km de la carretera.
Es tracta d'un torrent o rierol que discorre a través d'un petit bosc la aigua té una temperatura de 36-38 graus. A uns dos-cents metres d'on es deixa aparcat el vehicle (un espai per tot just 10 cotxes) la riera presenta unes petites cataractes sota les quals s'ha format una piscina de molt poca profunditat on un es pot introduir i donar-se un relaxant bany a l'ombra dels arbres o si és de nit sota la llum de la lluna, un autèntic spa natural en què vam tenir la sort de no trobar-nos a ningú més i poder disposar d'ell per nosaltres sols. Va ser el segon bany relaxant del dia que ens va donar nova energia per continuar el nostre camí cap a Huka Falls ja a pocs kms. de Taupo 
Les Huka Falls són interessants ja que per elles es canalitza amb una força tremenda tot el cabal d'aigua del riu Waikato , de fet Huka significa escuma que és en el que es transforma l'aigua en precipitar per la cataracta i caure a la llacuna posterior . Geologicamente es tracta d'un canó o gola d'1 km aproximadament de llarg per no més de 20-30 metres d'ample pel qual passa tota aquesta massa d'aigua que uns centenars de metres més avall discorre mansament fins a desembocar en el llac Taupo que és el mes gran de Nova Zelanda . Després de la visita de rigor i de poder sentir en tota la seva magnitud el so del salt d'aigua i també el dels milers i milers de grills de la zona vam decidir anar al càmping i anar a comprar per a la barbacoa que ens menjariem a la nit . Després d'un dia intens de calor vam poder gaudir d'unes cerveses al passeig principal amb vistes al llac , sense estar ni molt menys massificat el llac Taupo és una de les zones d'estiueig més concorregudes del país ja que els amants de la pesca , la navegació a vela i el caiac té aquí un paradís per a això. 
Com sempre la nostra rutina diària comença per matinar aviat i d'aquesta forma disposar del màxim temps possible de llum solar per realitzar les nostres activitats, visites, excursions, etc.
Avui es tractava de fer carretera sense parades per poder veure encara fugaçment la capital Wellington. A Nova Zelanda com ja sabreu les autopistes escassegen i no n'hi ha fora de les àrees urbanes principals, així que la velocitat de creuer no és precisament molt alta i per tant millor prendre el seu temps, això sí cal dir que el poc o molt poc tràfic que hi ajuda molt a superar aquest inconvenient. Tongariro està situat al massís central de l'illa nord i fins a Wellington ha d'haver unes 4 hores aproximadament, el paisatge és el estàndard de l'illa nord: suaus turons cobertes d'herba verda, rius, petites valls, comunitats rurals i per tant infinitat de granges amb vaques i ovelles per avorrir-te.
Creuem Okahune que és el centre més concorregut de la zona del parc nacional amb comerços, restaurants, agències de turisme, … Per la carretera vam fer un parell de parades per evacuar, fumar, beure, menjar i repostar passant per Marton, Palmestorn North, Levin, Shannon i altres petites ciutats o pobles fins arribar a Wellington. El nostre Top 10 era al nord de la ciutat a uns 25 kms molt a prop de la part nord de la badia i per això vam anar primer a registrar. Un cop localitzat el càmping i realitzat el check-in ens vam anar a recórrer la ciutat dirigint l'aparcament adjunt al Te Papa Tongarewa que és el museu més important de Nova zelanda.
Un cop aparcats ens preparem uns entrepans i vam decidir que al disposar només de 5-6 hores a la ciutat no entraríem al museu TE PAPA TONGAREWA tal com inicialment teniem previst , sinó que recorreriem el centre i prendríem el famós Cable Car per després baixar el turó recorrent els Botanical Gardens . De fet podiem entrar al museu però tancant a les 18.00 se'ns feia massa curt i en canvi per la grandària de la ciutat 5 hores de passeig podien DONAR més de si . Comencem el recorregut pel mateix centre on es troba la Civic Square amb l'Ajuntament i la Biblioteca Pública , passegem pel Queens Wharf (el barri del port ) i el Frank Kitts Park , creuem el City -to -Sea Bridge i vam caminar per Jervois Quay , Cable street , Wakefield and Victòria Streets abans d'agafar el Cable Car per pujar fins al Carter Observatory . Les vistes de la ciutat són boniques des d'aquest punt amb tota la badia al fons i el passeig de baixada per dins dels jardins botànics val la pena , en ells hi ha diferents ambients i diferents zones de passeig amb parterres dedicats a cert tipus de flors i plantes , amb arbres majestuosos d'espècies úniques , i també amb un jardí de roses fascinant anomenat Lady Norwood Rose Garden amb hivernacles en els quals hi ha plantes i flors molt interessants com les carnivoras , els nenufars , en fi als qui els agradi el colorit allà el trovaran en totes les seves gammes . Ja cap al final dels jardins botànics es creua un cementiri ( que queda perfectament integrat en l'entorn ) que és la porta d'entrada de nou a la ciutat per la zona del centre on es troben els Parliament Buildings i alguns ministeris .
Civic Square
Queens Wharf
Vam tornar pel barri del port de nou fins a la motorhome on vam decidir que era millor tornar al càmping i sopar allà que no quedar-nos a sopar a Wellington i arribar de nit amb molt cansament acumulat, a més teniem comprat el ferri amb Interislander per a les 8.00 del matí i havia d'estar com a mínim mitja hora abans per a l'embarcament, així que era millor retirar-nos a una hora prudent per estar aviat a la terminal del ferri.
0