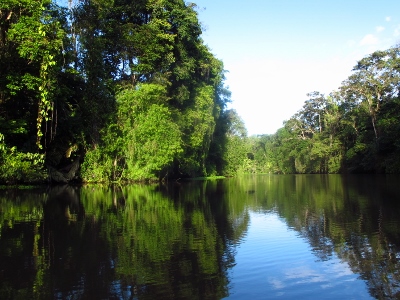 Andreu Ródenas. February de 2014
---
PURA VIDA!!! they say the "Ticos" as they like to call themselves when you give thanks or say goodbye. And the phrase sums up what Costa Rica is: a constant pleasure for the senses, a slow pace for a quiet life in a peaceful country. Costa Rica, unlike other countries in Central and South America is a country very balanced in all aspects, is a country of extremes and that has allowed him to develop a powerful tourist sector, they has taken advantage very well all the resources and potentials that the country has. No mass tourism, very respectful of the natural environment, a modern tourism for all ages and tastes that fits perfectly with the defense of the land and nature.
 Tortuguero National Park
We have been able to verify it on visits to various parks and reserves where respect for nature, sustainable development and eco-tourism are paired when they become aware of this idea and participate.
There are many ways to travel and focus on a trip like this, our will to do it so we can keep in touch with the people native to the places we visited and we can get a clear idea of ​​how they live, what think, etc. And I can assure you that in these 19 days we have achieved.
On this trip I recommend the way hotel + rental car because Costa Rica is a country very easily done by road. The distances are not great but saying that there are not many highways and roads are often in poor condition, which makes short distances in space become long time. But worth it to do it freely because you stop at many places to photograph landscapes and different situations are worth it.
If you do not like too much driving can always hire a shuttle service or private transport.
For more information go reading the posts that can be found in the "blog/articles" page.
La Paz Waterfall Gardens.
Manuel Antonio National Park
Rio Cocles waterfall. Indigenous reserve Bribri in Kekoldi
Rio Celeste waterfall . Volcan Tenorio National Park
0