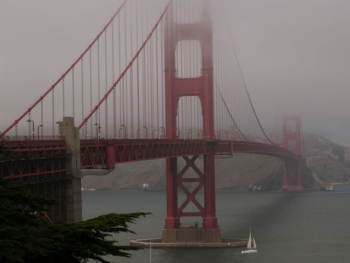 Andreu Ródenas. Agost de 2005
---
In the summer 2005 we did a big route in the golden state of California. It was 4.500 kms which permited to us visiting very known sites but many others not included in the guides for foreign tourists. 
The trip started in san Francisco where we spent threee nights and we could know everything  of the city, we took a walk by the marine neighborhood and the famous Pier 39, we went to the Castro and Mision neighborhoods, we walked by the Golden Gate Park, Twin Peaks, we went up to the Coit Tower and drove in Lombard Street (the fomous winding street). We got on the tram from Market and Powell street. But out of the city centre we visited the Alcatraz Prison and Sausalito (in front of the city). With no doubt the main highlight is the Golden Gate Bridge where we spent a whole morning.
The car tour that we did started in San Francisco driving to the south visiting Monterrey and Carmel, here we visited the Carmel Mission founded by Fray Junipero Serra.After that we crossed the 17 Miles Park and we spend a night in the Big Sur ( a long and winding road about 200 kms long). We just arrived to San Luis Obispo where a lot of people who drives from San Francisco to L0s Angeles stop for spending a night, but we took the road to the north-east to Reno and finally we arrived to Yosemite National Park.
Yosemite is one of the National Parks more visited in USA, it's located in the border with the Nevada state and you can get there from San Francisco, Las Vegas or Los Angeles. Natural landscapes are really spectaculars with a huge granite formations: El Capitan and the Half Dome. On the east side of the park we spend a night in the ski resort of Mammouth Lakes and from ther we reached the Lake Mono and  Bodie State Historic Park.
The tour go ahead to north-west of the state passing the central shires where gold was discovered. The little towns of Sant Andreas, Murphys and Columbia are some of the sites where we stopped and we could be able to know a lot of the old discovering age.
Once the Gold Route was finished we visited the city of Sacramento before going to the Napa and Sonoma Valleys where there are the best winneries of USA. After visiting a couple (one of them was Gloria Ferrer or Freixenet) we go ahead to the north till the coastal region of Mendocino where we enjoyed rugged coastline before to reach the Point Reyes National Seashore  which is a marine natural park and reserve where were located the epicenter of the big San Francisco earthquake in the begining of XX century.
If you want you can read more of this in the published posts:
0