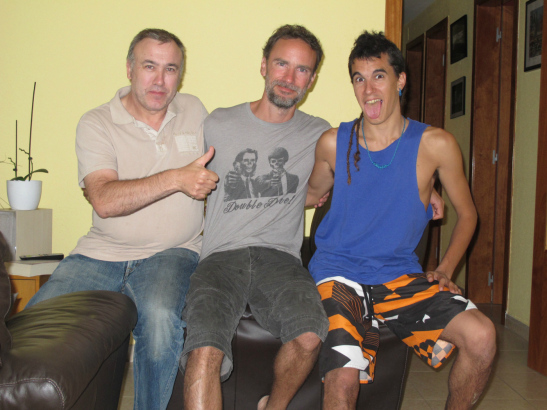 Andreu Ródenas
---
I want to tell you about couchsurfing and my first experience in this new system of traveling. Actually I have not yet used it to travel but I have welcomed in my house a person who was traveling through Europe through this new way of understanding travel.
In short, we would say that couchsurfing is traveling free of charge at the home of strangers who offer you a space in your home, be it a sofa, a bed, or a room. However, it is an exchange at all levels since the fact of housing allows you to know the person, their concerns, practice languages, etc. In many cases the host takes his guest to visit the city, shows him the places of interest, helps in learning the environment and this causes a possible reciprocity in the future, so the host can enjoy a place to to stay in the guest's home if one day he decides to go on a trip to the place where he lives.
The couchsurfing, then, is much more than traveling without paying accommodation, it is a vital exchange experience and therefore you have to choose well the person or people you want to have in your home. The website http://www.couchsurfing.org will give you the possibility to register in it for free and be part of this large and growing family that we are couchsurfers.
In August 2012 I stayed at my house in Premià de Mar and for three days I already consider a friend of Los Angeles (California) Dan Blanchett. Dan is a professional film camera, short filmmaker, screenwriter and photographer, who came four months to Europe and thanks to people like myself he could enjoy and know different cities and places in France, Catalonia, Italy, Czech Republic, Austria, Lithuania, Holland, Germany and England.
In Catalonia he stayed in Barcelona for a couple of days and in my house the three days that I have already told you. Although where Spanish lives is the second most used language and understands it quite well, we communicate in English so that I could practice. I left him a room and he was able to wash his clothes, charge the batteries of the computer and the camera, we shared the kitchen and the bathroom and we had breakfast and dinner together for two days.
Dan asked me not to spend my working day (Monday) in Barcelona, I preferred to do a route with the car somewhere in the interior Catalonia and know historical places, he was very interested in our traditions and customs, that's why I decided that would take him to the Monastery of Ripoll (one of the cradles of Catalonia) where he is buried among others Guifrè el Pilòs.
It was a very complete day because apart from walking around the city of Ripoll and visiting the monastery we also went to Camprodon, here Dan got tired of taking photographs on the Roman bridge and some modernist houses now in a completely decadent state. After Camprodón I took him to the small town of Beget where we ate in one of the restaurants enjoying authentic Catalan cuisine. The trip continued between the mountains between the districts of Ripollès and La Garrotxa since from Beget we went to Oix and Castellfollit de la Roca where we were able to photograph the basalt walls that form the base and roof of the town.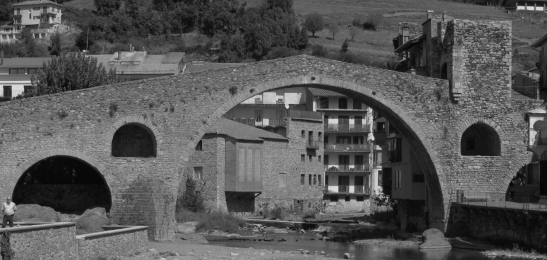 Once in La Garrotxa we continued descending in the direction of Besalú where we stopped to walk through the historic center and we sat on one of the terraces of the main square, my practice of English was improving and conversations of all kinds flowed continuously.
Before taking the highway that would take us to the highway to return home, we still had time to take a walk on the lake of Banyoles where we enjoyed a beautiful sunset.
At night a dinner in one of the beach bars of the beach of Premià de Mar with Nuria and Xavier and some friends, some beers in the sand and to sleep. The next day I went to work and he stayed on the beach with Xavier sunbathing and doing some surfing. When I arrived at noon we ate at home and then I accompanied him to Barcelona where he still had a night before leaving with a ferry to Italy.
Now I can say that I have a new friend in the United States and that I hope to be able to visit in the not too distant future.
2